Happy good day!
Di bawah ini akan ada beberapa foto-foto dan cuplikan kisah-kisah yang gue alami selama kabur ke Jepang.
Iya, kabur.
Sebab terus terang persiapannya pun dadakan kayak orang mau minggat.
Bahkan secara semena-mena, gue baru
packing
beberapa jam sebelum berangkat.
Berasa bocah nekat, deh.
Anyway
, selama di Jepang tempo hari tentu saja gue manfaatin waktu buat main sama teman-teman lama. Pokoknya siapa pun yang lagi punya waktu luang langsung diajakin jalan. Udah kangen luar biasa, bo!
Sempat main juga ke gakusai (
campus festival)
di universitasnya Ayumi.
Foto-foto dikit.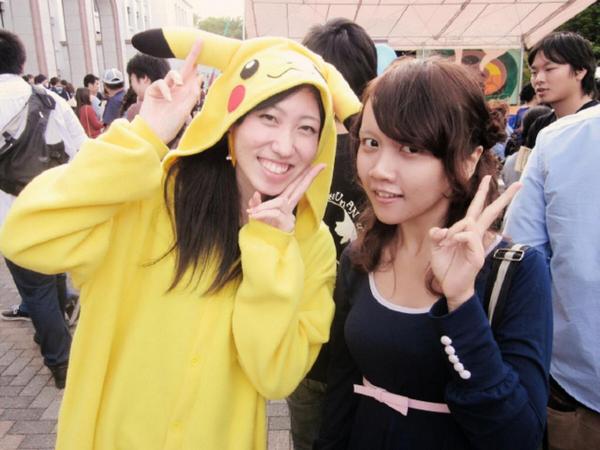 apa-apaan baju Pikachu ini.. gue juga mau
.. 8(((
dari kiri: Aya, aku, dan Ayumi
Bagi yang penasaran itu tatanan rambut aku bentuknya gimana...
Here it is
:
Iya, saya memang cakep kalau mukanya nggak kelihatan.
Kenyataan menyedihkan ini sudah saya terima dengan lapang dada.
MUHUHAHAHAHAHAHAH!
*ketawa setan*
Kembali ke topik.
Ngomongin temu kangen, akhirnya saya bisa ketemu dengan teman-teman sekelas.
Tentu saja, nggak semuanya bisa dateng (ada yang sibuk, ada yang pura-pura sibuk, ada yang gengsi mau dateng--biasanya yang begini ini kasusnya anak cowok), tapi orang-orang yang terpenting bagi saya hampir semua ada.
Tunggu.
Pamit sujud syukur dulu sebentar.
*sujud syukur, kemudian peluk dan cipika-cipiki kawan-kawan*
presiden kita nomor berapaaaa...?
Bersyukur sekali dua cowok favorit saya di kelas, Fujiyoshi Yuuki (jumper biru) dan Maruyama Akira (jumper orens) bisa datang :D
Mana saya duduknya di tengah-tengah mereka pula, hihihi...
*disambit golok karena ganjen*
Sekadar informasi,
Fujiyoshi Yuuki
ini jaman SMA tampangnya kyut banget.
Matanya sipit-sipit lucu begitu dan rambutnya rada panjang, pakai poni sampai nutup alis. Dulu saya hobi fotoin dia diam-diam kayak
stalker
(atau mungkin justru mirip orang mesum). Tak lupa, kalau bete dengerin penjelasan guru pas pelajaran, mata langsung pindah fokus ke bangku Yuuki. #nyengirtanpadosa
Kalau
Maruyama Akira
bagaimana?
Ganteng, bok. Ganteng. Aslinya manis sekali dan sangat baik.
Gue selalu cemas setiap kali lagi ngobrol sama dia. Jangan-jangan kelar ngobrol langsung diabetes. #APAANWOY
Selain itu, karena dia ketua Klub
Volunteer
(dan gue adalah salah satu anggotanya) maka bisa dikatakan Maruyama ini adalah bos gue.
....boleh kamu saya bungkus dan bawa pulang, Mas? Mas?
It felt like freedom.
Almost too good to be true, being able to reunite with your precious pals.
The friendship that beyond time and distance, its pulse stays strong and steady... as long as there are still hearts that treasure it.
I'll see you again, guys.
No matter how many year it takes.
Aku akan menemui kalian lagi, suatu hari nanti.
Pasti.